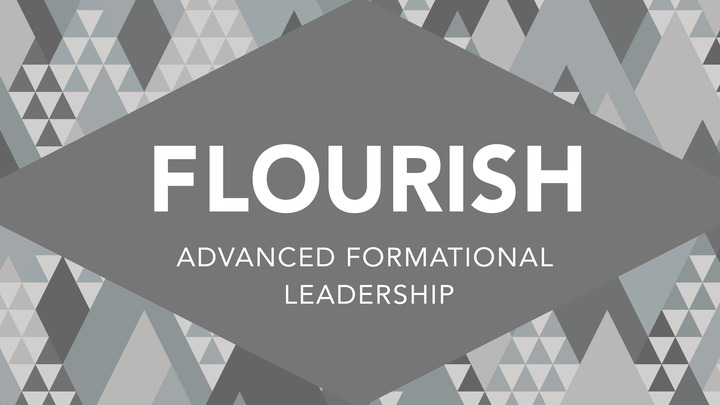 Flourish 2019-2020 | Advanced Formational Leadership
October 16, 2019 - May 24, 2020
$350
Dates & Times
Oct 16, 2019

7:00pm - 9:00pm

Oct 23, 2019

7:00pm - 9:00pm

Oct 30, 2019

7:00pm - 9:00pm

Nov 6, 2019

7:00pm - 9:00pm

Nov 13, 2019

7:00pm - 9:00pm

Nov 20, 2019

7:00pm - 9:00pm

Nov 22-24, 2019

7:00pm - 11:00am

Jan 15, 2020

7:00pm - 9:00pm

Jan 22, 2020

7:00pm - 9:00pm

Jan 29, 2020

7:00pm - 9:00pm

Feb 5, 2020

7:00pm - 9:00pm

Feb 12, 2020

7:00pm - 9:00pm

Feb 19, 2020

7:00pm - 9:00pm

Apr 1, 2020

7:00pm - 9:00pm

Apr 8, 2020

7:00pm - 9:00pm

Apr 15, 2020

7:00pm - 9:00pm

Apr 22, 2020

7:00pm - 9:00pm

May 6, 2020

7:00pm - 9:00pm

May 22-24, 2020

7:00pm - 11:00am

Show

all

less
Cost
Flourish ($100 deposit due first)

$350
Details
Flourish an 8-month intensive focused on the soul care and character development of the emergent leader through peer learning, spiritual practices, storytelling, teaching, worship and retreats.
It is an invitation to explore and develop your inner life and how it impacts your leadership effectiveness.
The kind of person you are at the core has everything to do with your effectiveness as a servant leader.
Module One: Christ In Us
Wednesdays | Oct 16—Nov 20
Fall Weekend Away
Cedar Springs | 4700 Minaker Rd, Sumas, WA | Nov 22—24
Module Two: Christ With Us
Wednesdays | Jan 15—Feb 19
Module Three: Christ Through Us
Wednesdays | Apr 1—May 6
Spring Weekend Away
Cedar Springs | 4700 Minaker Rd, Sumas, WA | May 22—24
Cost: $350 (includes course materials and leadership retreats). PLEASE DO NOT PAY FULL AMOUNT UNTIL YOUR ACCEPTANCE INTO THE COURSE HAS BEEN CONFIRMED
A $100 deposit is due upon receipt of the application, refundable in the event that applicant does not proceed with the course. The remainder is due on formal acceptance to Flourish (we will email you a balance due reminder with a link for payment).
NOTE: This course is intended for those who consider themselves committed followers of Christ, seeking a deeper relationship with God and an opportunity to grow as a leader in our community as a Church, as a part of the Vancouver community, and part of the global community. Applications will be reviewed, and an interview by phone or in person will be a part of the process in order to begin the program. Attendance of 80% or greater, plus participation in both Weekend Retreats is a key part of the commitment to engage in this 18-week course.
The registration form for this course is substantial, and requires both thought and time. You may want to grab a hot beverage as you begin with the application process.
The information you provide here will be used for Tenth's ministry purposes only and so will be shared with necessary people/parties. By clicking "Register Now", you are indicating your agreement with this use. In order to ensure that you receive the verification and the communication emails, please add no-reply@planningcenteronline.com to your address book. Thank you for registering with Tenth!